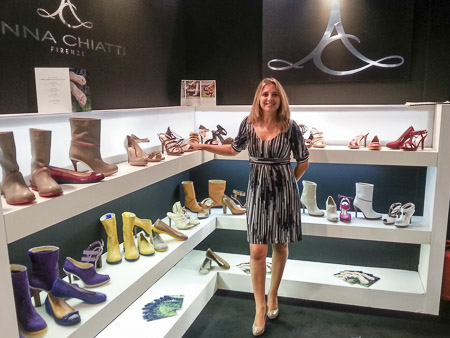 Anna Chiatti Firenze® is a very young Tuscan company who creates and produces high quality women's shoes.
Anna Chiatti, founder and owner of the company, is a shoemaker and shoemaker. Born in Florence, during his training comes into contact with the aesthetic suggestions offered by the city, from which they take shape as design creations of high quality design. The decade-long experience as a model in some of the best Tuscan shoe manufacturers makes its technical know-how an added value to art skills and creativity.
She is pointing to an innovative shoe for texture and materials, combining comfort, femininity, style and fashion. Create unique and refined and elegant shoes.
The testimonial of the Anna Chiatti Firenze® line is Fiona May, sports champion, actress and businesswoman.
The trademark filrouge is the use of both a shoe structure and a louvre on the upper TPU, a semi-transparent rubber that makes the footwear extremely comfortable. This material has a satin finish to the touch and, in contrast, produces a refined color changing effect. An exclusive and innovative result, both in terms of aesthetics and fit.
The soft and light lines design is contemporary: her footwear, in fact, accompanies the woman who wants to stand out at any time of the day and seize every opportunity.
Anna Chiatti, being a vital and determined woman, is ready to share, through her creations, desires, aspirations and sense of freedom.
Website: www.annachiatti.it
E-mail: info@annachiatti.it